HAPPY THANKSGIVING!
PTSA MEETING DECEMBER 2
Please join us on December 2 at 6 p.m. in room 153! You don't have to be a board member to participate. If you can't attend in person, we do have a call in option available:

Conference Dial-in Number: (605) 475-4000
Participant Access Code:191682#

SCRIP HOLIDAY NEWS
The last order due date for physical cards before winter break is Friday, December 6. Cards will be available for pick up the following week. The very good news is that for orders placed on December 5 and 6 only, there will be no Scrip fee for using a credit card to shop all 750 plus brands! Please take advantage of this limited time offer to do your holiday shopping.
Some retailers are offering $5 and $10 cards in December as well.
You can also pay by check made payable to MLWGS PTSA which must be received in the PTSA Scrip Box in room 100 (Valenta William's office) on the due date or with Presto Pay.
Hard copy of the order form is available
here
.
If you are not yet enrolled in Scrip, but want to do some holiday shopping, please contact your Scrip Coordinator, Laura Dysart at

scrip@mlwgsptsa.org

for the enrollment code. We can no longer post the enrollment code on-line. Go to

shopwithscrip.com

to see all available retailers or to shop.
Thanks to all those who have used Scrip to support Maggie Walker. We have already raised $500 in family shopping rebates!





PARENTS OF JUNIORS
Senior Seminar and Mentorship registration information can be found in your student's Schoology account (in the "Senior Seminar/Mentorship Application Information" group in the resources section). This includes the PowerPoint presentations used at student and parent sessions, handouts, seminar proposals, and the mentorship application. Please look at this information with your student as you help in the decision-making process. The online registration survey will be open until December 9 at 3:15 p.m. The paper Mentorship Application is also due by December 9 at 3:15 p.m. If you have any questions about the registration and application process, please contact

Mr. Cook

.





AUDITIONS FOR THE ADDAMS FAMILY MUSICAL
Auditions for The Addams Family musical will be by appointment from 3:30-6:00 p.m. on Tuesday, December 10 and Wednesday, December 11. Callbacks will be held from 3:30-6:00 p.m. on Thursday, December 12. Audition sign ups will go live Monday, December 2.
CAFETERIA GRAB AND GO LUNCH PILOT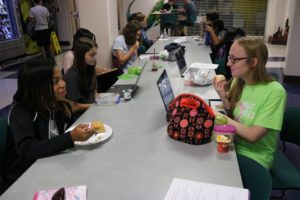 After evaluation of the food service survey that was issued earlier this year where we asked you for your feedback to improve this program, Serve1 is launching a pilot program of pre-ordered boxed lunches called "Grab and Go." The concept should help reduce lunch lines for students allowing them more time to eat and socialize with friends. Boxes will be labeled by name and placed in a specific area of the cafeteria that does not run through the regular line. The pilot will run the entire month of December and will be evaluated in January.
During this pilot, only cold foods will be available for pre-order to include salads and sandwiches with sides. Attached is a form to print and complete. Submit a completed form to cafeteria personnel by 12:30 p.m. each Friday for lunch the following week. Complete your order for 1-5 days and total the amount due. Payment is due when the order is placed with acceptable payment forms of cash, debit, or MLWGS cash cards.
Use the attached
order form
or students can pick up extra copies to complete from Reception in room 100. The lunch order form will also be found on the 'Co-Curricular and Curricular and Activities Fee Payment' page of this website.
Grab and Go lunches December 2-6: Order due to cafeteria by November 26
Grab and Go lunches December 9-13: Order due to cafeteria by December 6
Grab and Go lunches December 16-20: Order due to cafeteria by December 13
Orders not picked up for any reason will be discarded and cannot be refunded or credited.
BONUS: During this pilot, Wednesday mornings will be smoothie days. More information coming in December.
ORCHESTRA NEWS
Congratulations to the following students who made it into Central Regional Orchestra this past weekend. They will be participating in the event in February 2020.

Chloe Biggs- Violin (Chesterfield '23)
Mariam Jafari-Nassali- Violin (Richmond '23)
Annabel Tang- Violin (Henrico '23)
Shreyas Muthusamy- Viola (Henrico '23)
Mark Janssen- Viola (Chesterfield '23)
Drew Rivas- Viola (Chesterfield '23)
Sarah Hendricks- Cello (Hanover '23)
Abhishek Satpathy-Cello (Henrico '23)
Ella Folin- Cello (Henrico '23)
Sean Fang- Cello (Chesterfield '23)
Will Taylor- Cello (Henrico '23)





THE CUBE IS BACK!
The MLWGS Cube Club will hold their second annual Cube Speed Competition on Saturday, January 18, 2020. This will be held in the Gymnasium.

See the

World Cube Association link

for details.

Registration is now open and will close Tuesday, January 14, 2020, 7:00 PM EST, or sooner if participant limit is met. This event fills up fast! Register soon!
SAVE THE DATE! 2020 NOTD- SATURDAY, FEBRUARY 29, 2020!
The Night of the Dragon Auction is one of the highlights each year for Dragon parents (past and present), staff, and alumni. The 2020 NOTD: Quantum Leap-will take place on Leap Day, February 29!
The evening includes live and silent auctions, dinner, drinks, student entertainment, heads and tails, and more. This fun-filled event is also MLWGS' single largest annual fundraising event.
Here's how you can help make the upcoming 18th Annual Night of the Dragon the best ever!
Save the date and get your tickets when they become available after winter break.

Donate an item(s) for the Live or Silent Auctions. Popular items include unique experiences hosted by MLWGS families and friends, event tickets, vacation home rentals, artwork, local adventures—GET CREATIVE! To donate or help solicit, contact

Suzannah Stora

.
Become a Sponsor. Individual and corporate sponsorships are available at many levels. For Sponsorships, contact

Suzannah Stora

.
Lend a hand. If you want to help with putting on this amazing event, contact

Ginger O'Neil

for committee options.
Stay tuned for more information about this wonderful event in the coming weeks!


Dragon parents continue to battle it out to see which class has the highest parent percentage of Foundation Annual Fund supporters and the competition is fierce! Remember this year the class with the highest parent percentage will receive a student ice cream party at the end of the school year! Help the Foundation meet its goal of raising $330,000 before the end of the school year.

Totals to date are as follows:

Senior Parents (2020) 26%
Junior Parents (2021) 23%
Sophomore Parents (2022) 28%
Freshman Parents (2023) 27%

The Governor's School Foundation Annual Fund makes a huge impact on all students at MLWGS by directly supporting activities like academic competitions and student travel, as well as new technology, and student financial assistance. The support of our parents is critical in these efforts and we are most grateful for your continued commitment.

Make your contribution now

.

We look forward to all that we can accomplish together for MLWGS!