SENIOR REMINDER: ORDER ANNOUNCEMENTS
Herff Jones returns to MLWGS on November 6 and 7 (during lunch in the downstairs commons area) to accept orders and payment for graduation announcements and other graduation paraphernalia. These two dates will be the only time their representative is in the building. If you forget or wish to order online, visit:

www.herffjones.com

. Please remember to place your order by December 31 to ensure delivery and avoid an up-charge. Don't forget…seniors have already paid for their caps and gowns. This was included in their student fees, so no need to worry! If you have any questions or concerns, please contact

Ms. Sheppard

or 804-354-6800 ext. 3304.





SCRIP ORDERS DUE THIS FRIDAY



Great Lake Scrip Orders are due THIS Friday, November 8 by noon. You can place your orders on-line or with the

attached paper form

(a full list of retailers can be found at

shopwithscrip.com

and you can write in any not on the form). If you pay by check, make sure the check is payable to MLWGS PTSA and reaches the PTSA Scrip Box in room 100 (Valenta William's office) by Friday at noon. It's not too early to start thinking about holiday shopping, travel, and dining plans! Plastic cards need to be ordered either on November 8 or December 6 to receive them before our December break. Cards are delivered the week after the order due date. Of course, you can shop Scrip Now digital gift cards anytime to benefit MLWGS.
Questions? Contact your PTSA Scrip Coordinator at

scrip@mlwgsptsa.org

. To order or enroll, go to

shopwithscrip.com

The MLWGS enrollment code is: C43669E564L28. Let those retailers you already shop give back to MLWGS at no extra cost to you!

Also, there is a ONE day deal on November 21! Earn rebates up to 21% on e-gift cards and reloads.


MLWGS Drama presents: Almost, Maine




Poster credit: Malina Gavris (Chesterfield '20)



Almost, Maine

by John Cariani

Directed by Leigh Glatt

November 7, 8, and 9 at 7:00 pm

Welcome to Almost, Maine, a place that's so far north, it's almost not in the United States. It's almost in Canada. And it's not quite a town, because its residents never got around to getting organized- so it almost doesn't exist. One cold, clear, winter night, as the northern lights hover in the star-filled sky above, the residents of Almost, Maine, find themselves falling in and out of love in unexpected and hilarious ways. Knees are bruised. Hearts are broken. But the bruises heal and the hearts mend- almost- in this delightful midwinter night's dream. The show runs Thursday, Friday, and Saturday, November 7-9, at 7:00 p.m.

Tickets are $7 for students and $12 for adults and may be purchased at the door or online at

https://mlwgs-am.brownpapertickets.com/

.

OPENING NIGHT SPECIAL: Everyone can enjoy student pricing on opening night, Thursday, November 7.

Questions? Please contact

maggiewalkerdrama@gmail.com

.





MLWGS COMMUNITY SERVICE FAIR THIS FRIDAY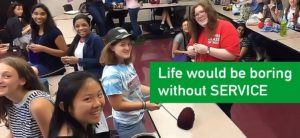 Maggie Walker requires 140 hours of community service by the 3rd quarter of every student's senior year. Each year the school holds a community service fair to help bring organizations and students together. The fair is this Friday, November 8.

The Freshman Class is being split into two groups with the first group attending from 10:50-11:10 a.m. and the second group attending from 11:10-11:30 a.m. During lunch (11:30 a.m.-noon), the Fair will be open to all interested students.

The following wonderful organizations are planning to attend: Governor's School Foundation, Lewis Ginter Botanical Garden, Courts for Kids, RampsRVA, Cameron K. Gallagher Foundation, The Doorways, VCU Health, Maggie L. Walker National Historic Site, and Sylvia's Sisters.
VOLUNTEERS NEEDED FOR INFORMATION FORUMS


Information Forums will be held on November 11, 12 and 13. Prospective students and parents can meet teachers and students, ask questions, tour the building, and receive an overview of the program and extracurricular activities.

We need volunteers to provide refreshments, help with setup and clean up, and answer questions from prospective students/parents.
Please sign up to either donate cookies and brownies or to help on any of the three nights. All food must be store bought and nut free due to allergies.
Thank you
to everyone who has either signed up to help with your time or with cookies donations. We still need more goodies! Last year, the PTSA Hospitality Committee served about one thousand cookies a night!
We will be collecting your donations this Friday, November 8 from 8-9 a.m. in the Bluestone lobby. You can drop off your donations or send them in with your student.
Contact

Kim Nguyen

for further information.



Prospective Student Night Signup



ATTENTION FRESHMEN PARENTS
Please join the Maggie Walker Class of
2023FACEBOOK
parent group to keep you updated on Class of 2023 information. Simply log into Facebook, search for "MLWGS Class of 2023 Parents" and request to join the group. Alternatively, the link will take you directly to the group where you may request to be added.
ORCHESTRA NEWS
Congratulations to Minji Cho (Chesterfield '21) who will perform with the All National Orchestra this coming weekend in Orlando, FL. Also, congratulations to Mira Eisenhauer (Henrico '21), Emma Chun (Henrico '20), Sam Lichtman (Henrico '22), Eric Qian (Chesterfield '22), and Joshua Yoo (Chesterfield '22) who will be performing with Senior Regional Orchestra this weekend in Lynchburg, VA.
JENNIFER TODD: 2018-19 BOYS TENNIS COACH OF THE YEAR
Jennifer Todd: second to the left with the 2018-19 Championship Team
Jennifer Todd, Science department faculty, has been selected by the Virginia High School League as the 2018-19 Boys Tennis Coach of the Year! The selection to receive this prestigious honor is based upon Jenn's positive work with the athletes in our program. Congratulations!

VHSL will submit Coach Todd to the National Federation of State High School Associations for further honors at the sectional and national levels. The VHSL sends its most sincere congratulations! They wish Coach Todd and our athletes continued success in the seasons ahead.
PERISA ASHAR: VA DELEGATE FOR GLOBAL YOUTH INSTITUTE- THE WORLD FOOD PRIZE
P
erisa receiving certificate from 2016 World Food Prize Laureate, Dr. Howarth Bouis.
Junior Perisa Ashar wins Virginia Delegate Position and represents Virginia at The Global Youth Institute of World Food Prize.
Perisa Ashar won the Virginia delegate position to represent the State at Global Youth Institute of World Food Prize, in Des Moines, Iowa. She presented her research on "South Sudan Food Insecurity: Problems and Solutions" in a round table conference to 200 other students from 12 countries, and global leaders such as the 2016 World Food Prize Laureate, Dr. Howarth Bouis, who pioneered the concept of biofortification of crops to prevent micronutrient malnutrition. Perisa researched the political mileu, climate, and causes of food shortage in South Sudan and possible geo-political and scientific solutions at regional and global level. Each year, the World Food Prize Youth Institute convenes around the World Food Day, October 16, and chosen student delegates present their findings with international experts and their peers, connect with other students from around the world, tour cutting-edge industrial and research facilities, and take part in symposium discussions with global leaders in science, industry, and policy in order to explore and solve local, national, and global hunger and food security issues.
Perisa also interacted and attended the Borlaugue Symposium led by World Food Prize Laureates, former U.S. Ambassadors of several countries (Thailand, Senegal, Uganda, Colombia), and world leaders such as the former president of Nigeria, the President of Democratic Republic of Congo, and humanitarian leaders from over 65 countries. In addition, Perisa also attended the ceremony in which the 2019 World Food Prize Laureate, Mr. Simon Groot was awarded the Food Laureate Prize by Mr. Kenneth Quinn (President of World Food Prize and Former Ambassador to Cambodia).
The World Food Prize is an international award recognizing the achievements of individuals who have advanced human development by improving the quality, quantity, or availability of food in the world. It was conceived by 1970 Nobel Peace Prize Laureate, Norman Borlaugh, and strives for the supply of nutritious food to all people and to fight global hunger and starvation with the theme of Pax Agricultura or Peace Through Agriculture.
Perisa with 2019 World Food Prize Laureate, Mr. Simon Groot, and the President of World Food Prize and Former Ambassador to Cambodia , Mr. Kenneth Quinn.
The Foundation Annual Fund parent competition is well underway! Each year Dragon parents battle it out to see which class has the highest parent percentage of Foundation Annual Fund supporters. And remember this year the class with the highest parent percentage will receive a student ice cream party at the end of the school year! Help the Foundation meet its goal of raising $330,000 before the end of the school year.

Totals to date are as follows:
Senior Parents (2020) 20%
Junior Parents (2021) 15%
Sophomore Parents (2022) 23%
Freshman Parents (2023) 22%

The Governor's School Foundation Annual Fund makes a huge impact on all students at MLWGS by directly supporting activities like academic competitions and student travel, as well as new technology and student financial assistance. The support of our parents is critical in these efforts and we are most grateful for your continued commitment.

Make your contribution now

.

We look forward to all that we can accomplish together for MLWGS!